The 10th Annual Smashwords Summer/Winter Sale Runs July 1-31
The biggest sale of the year at Smashwords has begun!
From July 1 through July 31, you'll find deals on all of the GRANDMOTHERS, INCORPORATED titles in the 10th annual Smashwords Summer/Winter Sale.
in the hilarious
GRANDMOTHERS INCORPORATED
Book Series!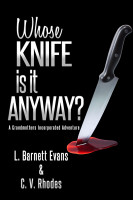 by L. Barnett Evans and C.V. Rhodes
That's what Bea, Hattie and Connie want to know as the amateur sleuths become embroiled in a case of "real" murder this time.
When the ladies of Grandmothers, Incorporated are trapped in the woods with a group of feuding church ladies, they wonder is a killer lurking in their midst?
It's another round of bell laughs as the ladies embark on a desperate search to discover WHOSE KNIFE is it ANYWAY?
READ A SAMPLE and PURCHASE
Visit us on the web at: www.grandmothersinc.com